Setting up a paypal business account
20-05-2020
Web Development
PayPal is pioneer payment gateway provider where you can send and request money seamlessly for personal or business purpose. All you need to have is an email using that a free registration could be done with PayPal .
In case if you want to send money or buy something online it could be done by registering your credit card or bank account, if you want to receive any money from other PayPal 's account you can do so by registering your bank account to receive automated payments to your bank from PayPal ..
We have personal and business PayPal accounts . The business account has more privileges such as accepting multiple currencies and integration with e commerce websites. Personal Accounts will display both your name and email address to buyers but using the business account, buyers will see your business name and business email address .
Here are a few benefits of creating a PayPal business account:
You can use your company name when others are paying via PayPal which gives confidence to them..

For Business account PayPal charges are low compared to personal account,

You can set up a payment gateway to your website and accept payments via your website.

Integration of PayPal to your website will allow payments from customers who does not have a PayPal account.
You can take a look at the below video this will be informative about paypal
Now we are going to see step by step guide of creating business account with PayPal .
1. Please type www.paypal.com in your browser and click business from the menu then click solutions for business , you will see a screen as below, then click sign up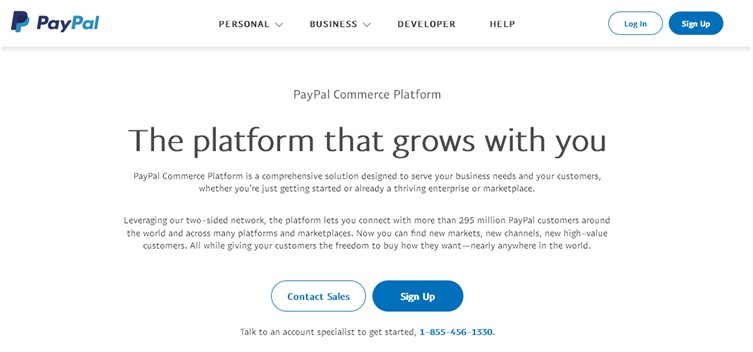 2. Please enter your email address, please make sure to enter your business email and enter a valid password, please add special characters , upper case to your password to make it strong,
3. Please enter all required values in the screen shot as you find below

4. Then you will be asked to enter your personal identification number according to your country you are living.
How much is the fees for paypal business account?
| PayPal business service | Cost |
| --- | --- |
| Opening a PayPal business account | There is no fee to open a PayPal account |
| Selling with PayPal business | For US based sales - 2.9% of the transaction value + $0.30International sales - 4.4% of the transaction value + a fixed fee based on the currency you receive + a 2.5% charge for any currency conversionFees might be different if your volumes are higher, you run a charity, or if you qualify for 'micropayments' |
| International payments | Fees for international payments are higher, including both a percentage fee and in some cases a fixed cost, too. Check out the details below.For international sales, PayPal notes that there's a 1.5% international transaction fee to receive payments from another country + 2.5% currency conversion fee if it's needed |
| Withdrawing money | Withdraw to your linked US-based bank account for freeWithdraw using a check - $1.50Move money to your bank account using a linked debit card - $0.25 per transfer |
| Making personal payments to friends and family | Free within the US and Canada, if you use your PayPal balance or a linked bank account to fund the paymentUsing a debit or credit card to fund the payment within the US and Canada - 2.9% of the transaction fee + a fixed fee of US$0.30 or CA$0.30International payments cost more, anywhere from 0.3%-3.9% depending on your payment method + a fixed fee that depends on the currencies + 2.5% currency conversion if it's needed - see sources below for details |
| Receiving personal payments from friends and family | Free within the US, if the sender uses their PayPal balance or a linked bank account to fund the paymentOther charges may apply for payments funded using a credit or debit card or for international payments like 1.5% international transaction fee for receiving money from another country + 2.5% currency conversion charge if it's necessary |
(Source 1, Source 2, Source 3, 6 February 2018)
Final tips
Before choosing paypal please be aware of fees structure and the charges where it varies according to the transactions, these days we have various moeny transfer providers who are coming with an attractive rates and charges , but we have to choose the one we can rely and who has a prominent history,